Moving dangerous goods – a guide
Moving house often means moving dangerous goods, as these can often be simple household items and not the dangerous weapons they first sound like. 
It can be an inconvenience to not move these with the rest of your belongings, but it is a necessary precaution to take. Separate dangerous goods removal ensures the safety of you and your movers and this guide will detail what qualifies as a dangerous good. As well, we will discuss how exactly you can move them to your new home. 
What are dangerous goods to move?
Although they may sound ominous, dangerous goods are actually fairly mundane items found around the home. However, they can pose big safety risks to you and your movers. These dangerous goods typically fall into one of the following hazard categories: 
Flammable 

Toxic 

Corrosive 

Exploding 

Radioactive 
What are some common examples of dangerous goods?
As mentioned before, moving dangerous goods is not as scary as it sounds. The following is a list of the most common examples of prohibited goods during dangerous goods removal.
Nail polish remover 
Due to the high acetone content of most nail polish removers, they are a fire hazard. As well as this, they cause systemic toxicity following excessive inhalation of the product.
Paints/Paint thinner
This is a dangerous good because of its dangerous toxic fumes.
Methylisothiazolinone (MI) and methylchloroisothiazolinone (MCI) are both very common irritants and cause reactions in those that inhale the fumes.
Petrol
Petrol is a highly dangerous liquid when misused or mishandled. It is a highly flammable substance that gives off a strong vapour. 
Its primary threat is its flammability, posing an explosion hazard to those who are handling it.
Oven cleaner 
Oven cleaner is made from strong chemicals, and when mishandled, it can cause a range of unpleasant reactions.
Fertilisers 
Plant fertilisers are a dangerous good because of their poison risk to both humans and animals. 
Should someone accidentally ingest or inhale fertilisers excessively, they are at serious risk of becoming very unwell.
Pool chemicals 
Pool chemicals pose a threat to people due to the strong chemicals they contain; you or your movers should not be exposed to pool chemicals for a long period of time. 
Lighter fluid
Although this one may seem obvious, lighter fluid is one of the most dangerous household goods to movers.

This is, of course, a result of its flammability. But also, the chemicals that make up lighter fluid can lead to breathing difficulty and more severe effects too.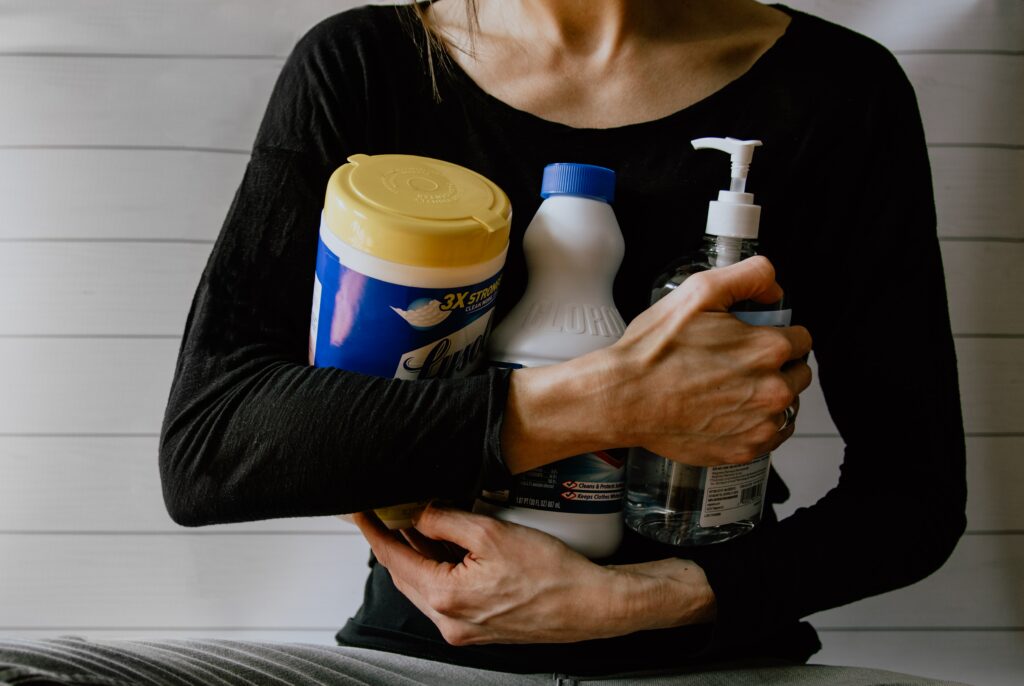 Cleaning solvents
Despite them being sealed in a bottle, moving any cleaning products, including bleach, poses a risk to movers.

This is because of the dangerous chemicals they contain, making them a fire hazard.
The products could also leak in the moving van, potentially causing damage to other items.
Aerosols
These make the no-move list due to them being pressurised cans. This means that they pose an explosion risk.
When moving dangerous goods, aerosols can be a threat to movers, so be sure to discuss this one with your removals company early on.
These are just some items that are often prohibited when moving dangerous goods. You should always check what your moving company is comfortable moving. 
How can I move my dangerous goods?
It depends on the removal company itself, but some companies will not accept any of the above-listed substances. However, by talking to your removals company early, you can establish what items they will move for you and which are not safe for them to handle. 
It is important to find a trustworthy and reputable company to move with. Ideally, look for a removal company that is licensed and insured, with excellent reviews and testimonials. These are dangerous goods and ultimately, you want them to be in the right hands. Not to mention that selecting a highly rated moving company will take the stress out of the process for you.
Another way that you can make the dangerous goods removal process easier for both you and your mover is to pack and label everything clearly so they know what box contains what item. You can do this by purchasing solid moving boxes and labelling them clearly in bold writing. 
Choose Bassy's Removals for your move today!
At Bassy's Removals, our team works tirelessly to make your move stress free. Our testimonials speak for themselves; we are a fully licensed and insured company that aims to make moving a breeze. 
You can get in touch with the team to discuss dangerous goods removals today. Or contact them to get the moving process started. Click here for our online contact form to talk to a member of our team.