Getting ready for the big move can be a hectic period, especially with all the packing when moving house. Even if the best planners can struggle with the stress that comes with packing all your belongings and organising the move on top of your daily tasks. Fortunately, there are ways to make the whole process more efficient and save yourself unnecessary worries. 
As expert home movers, here at Bassy's Removals, we know a thing or two about packing when moving house. In this post we'll pass on some of our best tips for packing to make your home move go as smoothly as possible. 
Preparing to Pack 
Before you start packing all the belongings in your current house, it's worth considering if you actually need everything? There are probably things you won't need in your new home and could get rid of. Decluttering in advance will make packing a lot less stressful. 
Another thing to consider before you start packing is packing supplies. Make sure you have enough boxes, tape, cling film and other packing supplies you'd need. If you want to save money on packing materials, you can also use boxes and luggage storage you already have. Suitcases are particularly good for this job. 
How to Efficiently Pack When Moving House?
Packing when moving house is a time consuming task, however, it can be made easier with just a few simple steps. Here's some of our expert tips as experienced home movers in the Nottingham area:
How to Pack Boxes When Moving?
The first rule when packing boxes is to not let them get too heavy. It's easy to keep throwing items in the box until it's completely full, but you also have to think about the items you're putting into the box. If a box is too heavy, you'll have trouble lifting it up and getting it to the moving van. 
To avoid this try using smaller boxes for heavy items; this way you won't be tempted to overfill it. For items that are light, but bulky, use bigger boxes. 
Another pro tip for packing boxes is to fully utilise any gaps in them by stuffing small towels, socks or other small soft items into the gaps. This way you're not only optimising the space usage but also protecting any fragile items in the box from moving around and potentially getting damaged. 
How to Pack Furniture?
Bigger pieces of furniture can be tricky to pack and move to your new home. In this case you might not be able to find a big enough box to fit a whole sofa or dresser, so the best way to prepare your bulkier pieces of furniture for the move is by using plastic sheets and bubble wrap to securely wrap them.
Make sure you give your furniture a clean before packing them to prevent fragile furniture or antiques from getting scratched. If you're moving any dressers that have drawers, take the drawers out and wrap them individually to prevent them from opening during transit and damaging other things. Same goes for any glass elements, such as tabletops or doors, as well as furniture legs. 
How to Pack Clothes?
Clothes can be quite bulky and taking them off all the coat hangers and folding them into boxes can be time consuming. The easiest way to pack clothes when moving is to use a specially designed wardrobe moving box. For particularly thick clothes, such as coats, sweaters or cardigans, you can also use vacuum sealing bags. 
How to Pack Fragile Items? 
When packing particularly fragile items,such as glassware or antiques you should be extra careful and ensure they're completely secure in the box. Always use bubble wrap, tissue paper, soft towels or other soft materials to fill any gaps in the box to prevent potential accidents.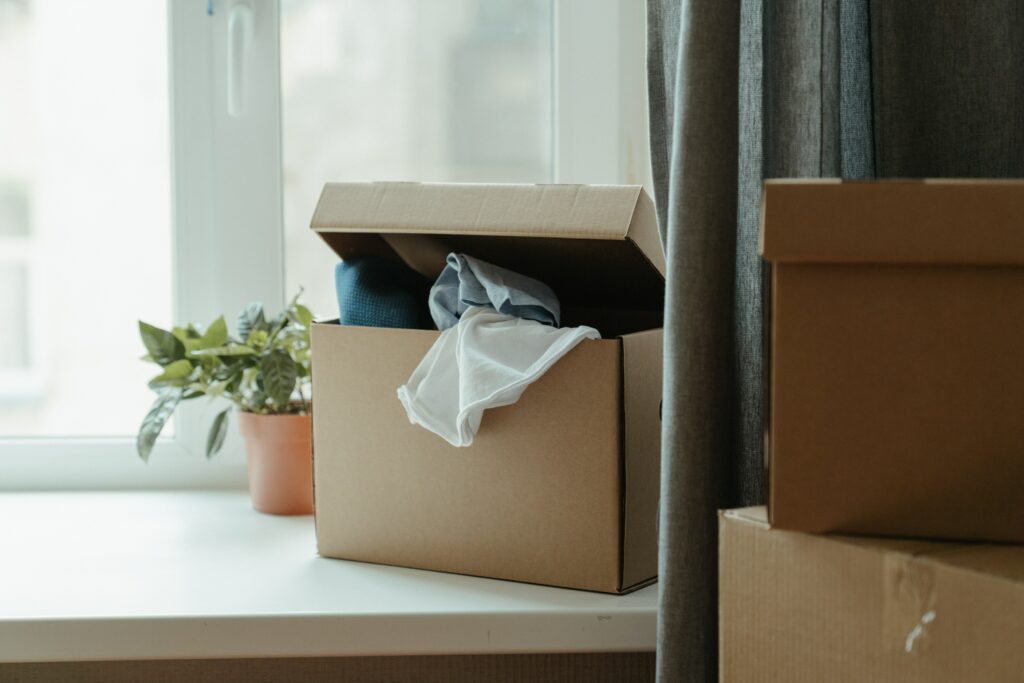 Top Packing Tips
Label each box by room so you know what goes where when you unpack and organise your belongings in the new home. 

Keep cable ties or rubber bands around electrical items to secure the  cords of appliances or items that go together. 

Use toilet roll tubes as cable holders to prevent your cables from tangling in the box. You can also label them with a marker so you know exactly which cable is for your laptop for instance. 

Take a picture of the contents of each box before closing it with tape in case you need to remember where you've put a particular item, such as the TV remote. 

Cover the opening of any toiletry bottles with a bit of cling film to prevent them from leaking. 

Put any essentials, such as documents in a separate bag and keep them with you. 
The Bottom Line
Moving house can be exciting, however, the packing process can be rather stressful for even the most organised of us. If you want to save yourself the time and stress when moving in Nottingham, let the professionals at Bassy's Removals help you. Our experienced team can make the whole moving process a lot easier for you by assisting not only with moving your belongings, but also with packing everything for transit and providing packing materials. Contact us today to receive a quote and let us take care of the rest!